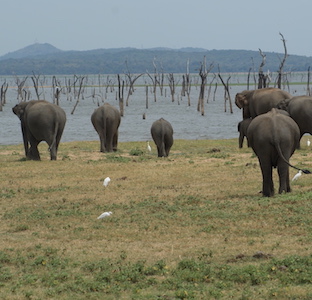 Surroundings
Machcha Lodge is situated in the most famous part of Sri Lanka. The Cultural Triangle containing the country's cultural highlights and many game reserves. We have compiled three different day programmes containing the most famous 'must sees'. For a complete local experience of the trodden path: ask Kamal for his favourite hidden treasures
Close by: visit UNESCO Heritage site Sigiriya Rock
Visit to ancient royal cities Anuradhapura of Polannaruw
Elephant safari in Miniriya National Park
Day 1
After a breakfast with fruit from the garden there is a choice of UNESCO worlds heritage sites close to Machcha Lodge. Start with the number one Sigiriya or the Lion Rock (6,7km). Climb the rock before it gets to hot. Visit the ruins and enjoy the view on top. Do not feed the monkeys!! In the afternoon go to Kaludiya Pokuna (6 km) a pond built by one of the earliest Sinhalese civilizations or visit another amazing site: the cavetemple of Dambullah (11 km).
Day 2
Machcha Lodge is also a good starting point to visit the three ancient royal cities in the 'Cultural Triangle'. Pollonnaruwa takes a little more then an hour by car. Hire a bike to discover the remains of the vast garden-city. Polonnaruwa was the second capital of Sri Lanka after the destruction of Anuradhapura in 993. It comprises, besides the Brahmanic monuments built by the Cholas, the monumental ruins of the fabulous garden-city created by Parakramabahu I in the 12th century. The other royal cities: Anuradhapura and Kandy.
Day 3
After two days of culture it is time for nature. You might have met some local species already in Machcha's garden like the giant squirrel. Elephants are spotted sometimes at night stealing fruit (and taking the tree along). To be sure to spot them however you have a choice of National Parks in the area. Minneriya National Park offers the largest gathering of wild Asian elephants in the world!